How are foundations across the world raising awareness?
Recognised worldwide, many countries are engaging in their activities to raise awareness. Here are a few examples of how some foundations are supporting brain tumour research.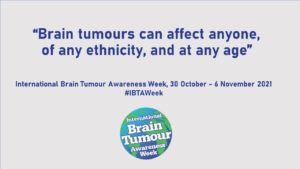 Brain Tumour Ireland
Leading national charity Brain Tumour Ireland are saying thanks to people and healthcare professionals to mark brain tumour awareness week using the theme "Hats off to you". Throughout awareness week, they will be encouraging people to wear a hat and post a selfie using #WearAHatDay and to donate to the association if they can. Other events that will be taking place are a special fascinator workshop for healthcare workers, an online brain tumour awareness conference for healthcare professionals and a children's colouring competition.
Brain Tumour Foundation of Canada
Brain Tumour Foundation of Canada will also be engaging in similar activities with the 'Hats for Hope' movement to raise awareness for brain cancer in Canada. The foundation is selling its own branded 'Hats for Hope' hats to encourage people across Canada to wear them on October 24th. An activity that takes place outside of awareness week is the volunteer-led, 2021 Brain Tumour Walk. On June 27th this year, family and friends across Canada participated in the walking program to raise money to fund brain tumour research and support services.
American Brain Tumour Association
The ABTA golf challenge is an annual event that takes place in June, where golfers from around the country compete nationally. A golfer registers as a host and creates a fundraising page where players can register and donate $75 each. Another ABTA event that takes place is the "BT5K Your Way" where people can walk, run, or bike 5k with friends and family. The events help to raise critical funds for brain tumour research and patient support services.
To find out more about how you can get involved and help raise funds for brain tumour research in the UK, visit here.